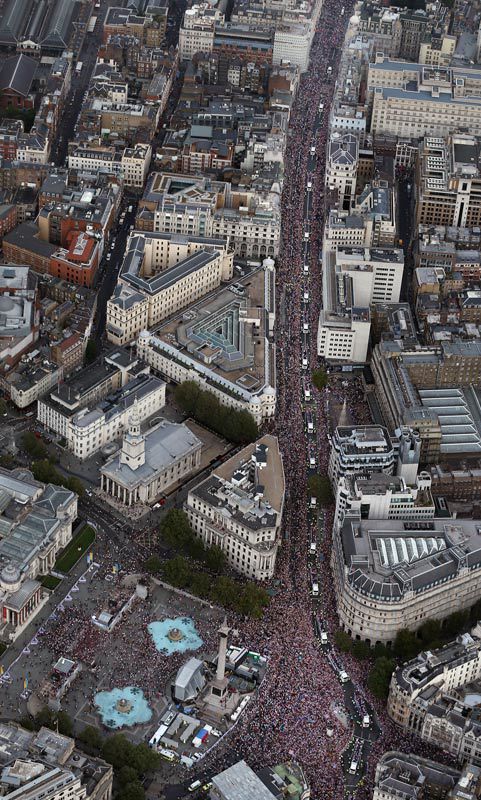 People making their way to work across Horse Guards Parade are reflected in a puddle and silhouetted against a sunlit Admiralty building in London. December 17, 2018.
A member of the 'No Show' all female acrobatic troupe performs a back flip in sight of the London skyline from Parliament Hill. April 17, 2018.
Household Cavalry horses are exercised in Hyde Park. London, England. March 28, 2012.
Hampton Court flower show. London, England. July 2, 2012.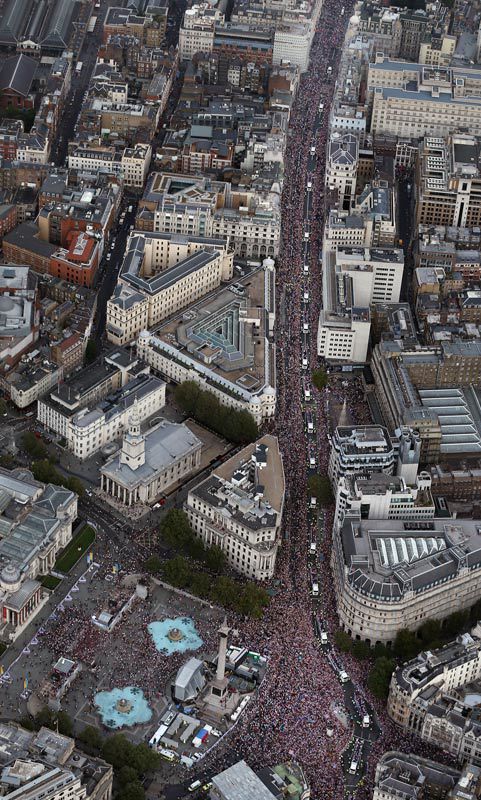 Trucks carrying British Olympians drive past Trafalgar Square. London, England. September 10, 2012.
A tourist performs a handstand under an autumnal tree in Hyde Park. London, England. October 12, 2012.
Olympic rings pass Parliament on The River Thames. London, England. August 2012.
Paralympians enjoy the atmosphere during the closing ceremony of the London 2012 Paralympic Games. London, England. September 2012.
New Years Eve fireworks, London. January 1, 2013.
The City of London viewed from The Shard. London. January 9, 2013.
The funeral cortege carrying former Prime Minister Margaret Thatcher heads to St Paul's Cathedral. London. April 17, 2013.
Passengers ride a bus in summer heat. London. July 17, 2013.
A crowd gathers as an egg is fried in sun reflected from a new building in The City of London. September 4, 2013.
Traffic and pedestrians flow across Tower Bridge and the River Thames seen through a new glass floor in the bridge's walkway. London, England. November 10, 2014.
A volunteer removes one of the 888,246 hand-made poppies, representing each of the commonwealth servicemen and women killed in the first world war at Tower of London. November 14, 2014.
A passenger plane comes into land over a field containing horses at Heathrow Airport. London, England. August 11, 2014.